Lest We Forget - A History of the Holocaust
---
OVERVIEW
Lest We Forget: A History of the Holocaust is a powerful testimony to an event in history which cannot be comprehended but must be retold.
Rare archival film footage, historical speeches, original music and documentary photographs elicit powerful emotions which writing alone cannot achieve. Combined with an original text which provides a thorough historical perspective, this exceptionally moving and thoughtful work on the subject of the Holocaust is a poignant contribution to a story which must be remembered.
This interactive history provides countless possibilities for exploration of the subject. The Table of Contents lists the chapters, topics and subtopics which include the following features:
250 pages of original text written specifically for this work
historical interactive maps, charts and timeline
glossary and hypertext links
65 detailed biographies
special overall design and graphics which provide an appropriate environment for the subject
subtitled German audio documents and rare film footage
original soundtrack
narrated video-montages as summaries of the main topics
a gallery of 500 photographs with accompanying captions
---
INTERACTIVE TOUR
---
REVIEW EXTRACT: "The best CD-ROMs suspend information in a 3-D environment"
Detroit Free Press, November 13, 1996, by David Lyman and David Crumm
"...Multimedia programmers love bright colors, but the team of Belgian designers that created "Lest We Forget: A History of the Holocaust" (Logos, $59.95) chose a stark, steel-gray palette that was perfect for their chilling subject. Instead of unfolding in discreet windows, "Lest We Forget" builds collages of images that make disturbing contrasts between Nazis and their victims. Finally, the soundtrack itself becomes a collage of conflicting sounds. The result: We feel the fear, the hatred, the danger and the sorrow of the Holocaust."
---
REQUIREMENTS
Microsoft Windows 3.1 or Microsoft Windows 95
486SX-33 or better
8Mb Ram
VGA Monitor & Video
2x CD-ROM drive or better
Sound card and speakers
Macintosh
System 7.0 or higher
MacIIci or better
8 MB (5Mb available)
Color display
2x CD-ROM drive or better
---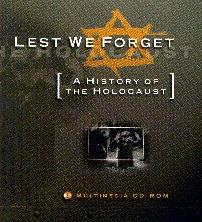 WIN/MAC CD #LLWF: $53.95 (List: $59.95)
Infomedia Judaica, Ltd. Orders: (800) 303-3365

---