INFOMEDIA JUDAICA, LTD.
presents
MILONIT and TALKING SUPER-MILONIT
THE MOST SOPHISTICATED, HAND-HELD, ELECTRONIC
HEBREW/ENGLISH - ENGLISH/HEBREW DICTIONARIES

Milonit is a "serious" educational tool with hundreds of thousands of words per language. All Hebrew words appear in Hebrew characters or, at the touch of a button, in a phonetic pronunciation guide in English characters. An advanced English spelling checker, "Speller+", helps find the right English word even if not entered with the correct spelling.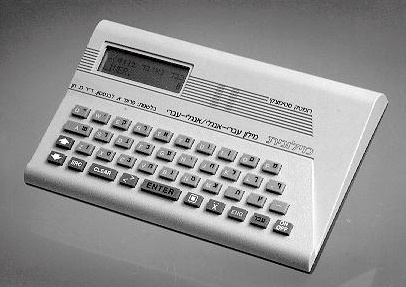 More Features:
* 250,000 words, expressions, synonyms, idioms, slang
* grammar indicator
* 2x16 display
* adjustable screen contrast
* automatic shut-off
* ergonomic design
* includes American and British vocabulary
* expandable with inexpensive extension cards
* 4 AA batteries included
* 1-year warranty





---
Talking Super-Milonit not only translates words and expressions in both languages, but also pronounces all of the English entries in a Natural Human Voice, unlike other translators which speak in a Robotic Voice. This feature is of interest to those who are Hebrew fluent and interested in learning English.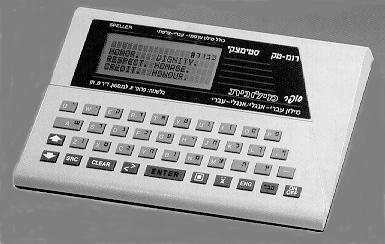 More Features:
* 470,000 words, expressions, synonyms, idioms, slang
* a large, wide and clear 20 X 4 display
* built-in speaker with volume control
* head phone jack
* automatic shut-off
* 4 AA batteries (included)
* Hebrew fonts
* adjustable screen contrast
* ergonomic design
* expandable with inexpensive extension cards
* includes American and British vocabulary
* 1-year warranty
---
Professional Vocabulary - Each of the following cards contains over 100,000 words:
* Business Terminology
* Legal Terminology
* Medical Terminology
* Technical Terminology
Foreign Languages - Each of the following cards contains over 100,000 words:
* Hebrew/German
* Hebrew/Russian
* Hebrew/Spanish


---
Other Languages
"Compu-Dict" electronic dictionaries are also available in the following languages, (in combination with English.)
(For further information please inquire.)
Arabic
Czech
French
Hungarian
Italian
Polish
Russian
Spanish
Turkish
Ukrainian


---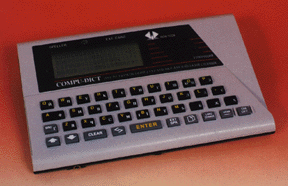 MILONIT: # CAM, $134.99 (Cat.: $149.99)
SUPER-MILONIT: # CASM, $179.99 (Cat.: $199.99)
EXTENSION CARDS: $44.99 (Cat.: $49.99) (See Hardware Product List for Product Numbers)
Infomedia Judaica, Ltd. (800) 303-3365
---