Encyclopaedia Judaica CD-ROM Edition



AN UNRIVALED TEXT
The text of the Encyclopaedia Judaica CD-ROM is distinguished by both its breadth of scope and depth of focus on the Jewish world and civilization. The CD-ROM comprises the complete text of the 16-volume print edition of the Encyclopaedia, the Year Books and the Decennials that followed, and a distinguished selection of updates available only on this CD-ROM. Whether for a Ph.D. dissertation or a Bar/Bat Mitzvah report, the more than 15 million word, 20,000 article text in this CD-ROM provides the perfect source for research on any Jewish related subject. And now, the extensive multimedia elements allow you to explore and learn by listening and watching: hear Jewish music of the 12th century, witness the fate of the Jewish community in Warsaw... The Encyclopaedia Judaica CD-ROM Edition - a dramatically new dimension in Jewish reference, research, and learning.

---
FOR A SEQUENTIAL TOUR OF SAMPLE ENTRIES AND SCREENS, CLICK:

OR
---
| | | |
| --- | --- | --- |
| Information Categories Include: | Selected Updates | New Feature Articles Include |
| - Contemporary Jewry | -Jews in the entertainment industry | -Ultra-Orthodox Jewry |
| - Education and Modern Scholarship | -biographies of current figures | -The American Jewish Family |
| - History | -Jewish communities around the world | -The Legal Status of Jerusalem |
| - Jewish Arts | -Jewish demographics | -Islamic Fundamentalism |
| - Jews in World Culture | -statistical tables | -South Africa Jewry in a Changing World |
| - Judaism: Practice | -topical bibliographies | -The Middle East Peace Process |
| - Judaism: Thought | | |
| - Literature and Language | | |
EXPERIENCING THE JEWISH WORLD FIRST HAND
Experience the Jewish world through the marvels of multimedia, enhancing any journey through the Encyclopaedia Judaica CD-ROM Edition. The various multimedia features are easily accessed either through links in the 20,000 articles, (most of which are accompanied by one or more of these features,) or directly via the Media Gallery, which offers a dynamic option of exploring at random. Every search becomes a memorable experience!

Multimedia Features Include:
Photographs Film Clips
Sound Clips Music
Slide Shows Charts
Maps Hebrew Pronunciations
Statistical Tables

SEARCH AND DISCOVER!
The joy of the Encyclopaedia Judaica CD-ROM Edition is that it can be utilized efficiently, in a variety of ways, for a multitude of purposes. This CD-ROM represents the culmination of years of intensive work by outstanding scholars worldwide, and provides a comprehensive picture of all aspects of Jewish life. Itís appropriate for anyone with an interest in Judaism and Jews - novice to scholar, Jewish and non-Jewish alike. From definitive examinations of YIDDISH LITERATURE and CODIFICATION OF LAW to fascinating accounts of the BARNACLE GOOSE MYTHS and the improbable biography of IGNATIUS TIMOTHY TREBITSCH-LINCOLN, sorting through the vast quantity of information on this CD-ROM, and discovering its treasures, is accomplished with ease, by simply engaging one of the highly useful "Working Tools."

Working Tools include:
Full Text Search Category Explorer
Hyperlinking See Also
Bibliography Outline Feature
Word Processing Annotation
Index Browse

Interactive Timeline
Track parallel events from Jewish History, Jewish Culture, and General History, beginning with the year 2000 BCE and concluding at the end of the 20th century. Interested in the nature of Jewish art and literature at the time of the Bolshevik Revolution? The answers are quickly found here.

A TREASURE-HOUSE OF INFORMATION - ALL ON ONE CD-ROM
- More than 15 million words
- 20,000 articles
- 16 volumes
- 8 Year Books
- 2 Decennials
- A distinguished selection of updates
- Thousands of graphic elements, sound clips, slide shows and video

System Requirements
PC w/minimum 486 processor, 8MB RAM, 2X CD-ROM, Windows 3.1 or Win95.
Network versions and site-licensing available - please inquire for pricing.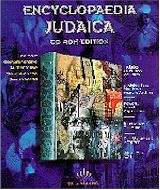 WIN CD, CAT # JMEJ, $249.00 (List: $499.00)
Infomedia Judaica, Ltd. (800) 303-3365

---